Boo! Halloween is here! Get costume ready with your favorite PinkBlush pieces. Everything you need to create a comfy, convenient and creative looks are all in one place, plus these styles can be worn after too! This is no trick, treat yourself to cute maternity clothes that can double as bump-worthy costumes but also be mixed in with your everyday wardrobe.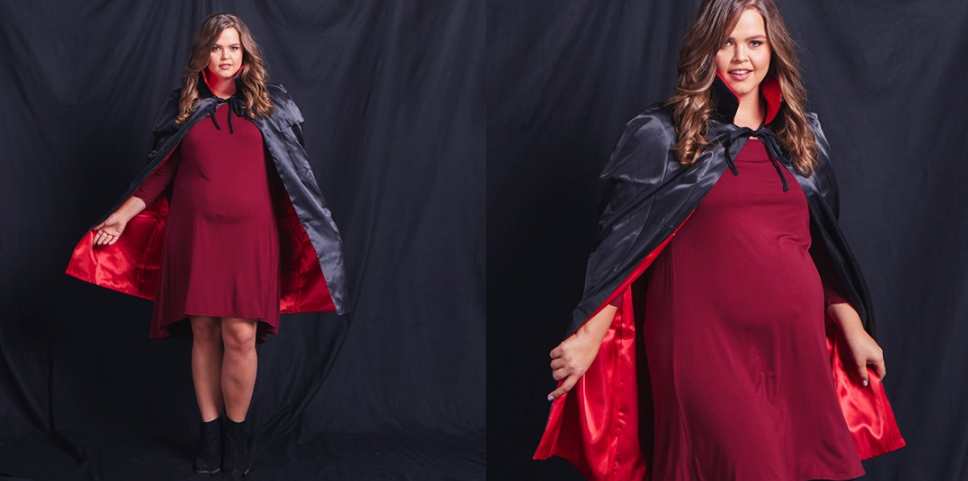 MOMPIRE:
Our Burgundy Basic Ruched Sleeve Hi-Low Maternity Dress is the perfect base to any vampire costume, paired with our Black Faux Suede Laser Cut Booties, just add a cape and fangs and you're ready to take on the night one candy at a time!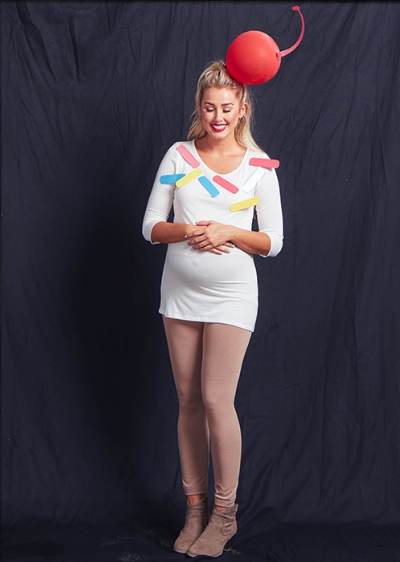 Cupcake:
This is one sweet costume! We've taken our Taupe Maternity Leggings and topped them off with our Ivory ¾ Sleeve Maternity Top and completed the look with our Taupe Faux Suede Ankle Booties. Add your favorite toppings and yes, we'll take a cherry on top please!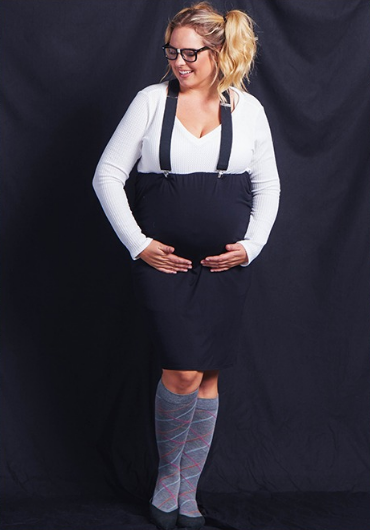 Geek Chic:
Pop quiz! What do you get when you take our Black Fitted Maternity Pencil Skirt, Ivory Long Sleeve Thermal Knit V-Neck Maternity Top & Grey Argyle Knee High Compression Socks and pair them with simple glasses and suspenders? The easiest A+ you'll ever earn, doesn't it feel good to be head of the class?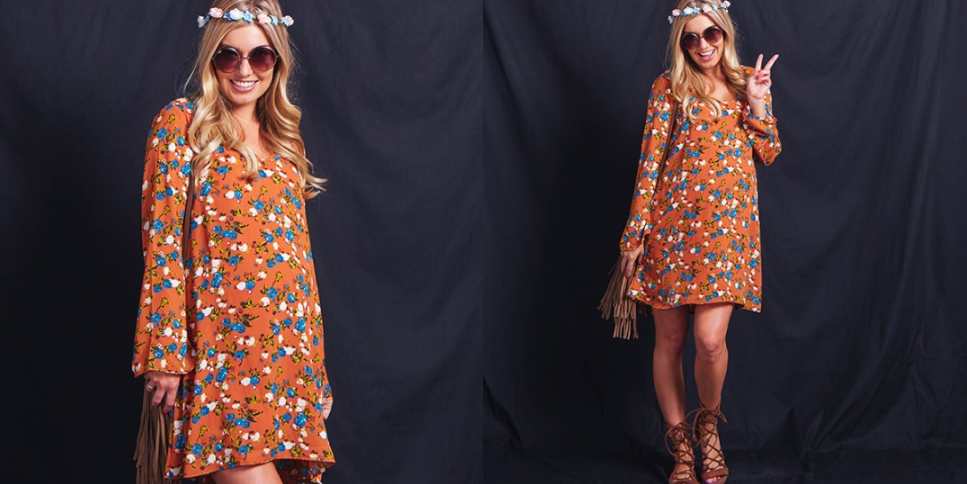 Peace, Love & PinkBlush:
Florals are back for fall, transform our Rust Floral Printed V-Neck Chiffon Maternity Dress into a fun & flirty look this Halloween. Pull out those round 70's inspired shades and flower crown you've been dying to wear to complete the ultimate flower child ensemble.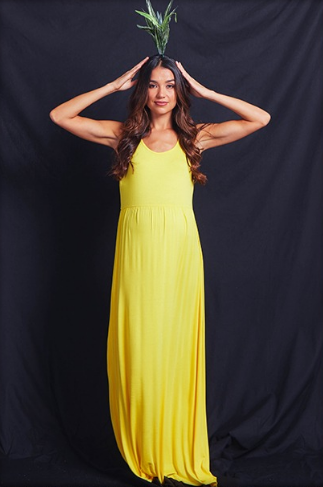 You Are The Pineapple Of Our Eye:
Create the cutest Pineapple inspired costume with our Yellow Basic Maternity Maxi Dress and who doesn't love a good crown? Take some greenery and glue to a headband to top off your look. Sweet & Simple!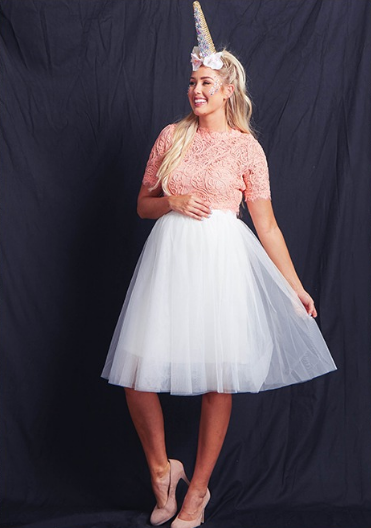 The Last Unicorn:
Looking for the ultimate girly costume this year? Look no further, our Ivory Tulle Mesh Maternity Midi Skirt and Pink Fringed Lace Maternity Crop Top paired together is just the start to how dreamy this costume is! Add some sparkle to your face with a cute spiraled horn to achieve a whimsical look.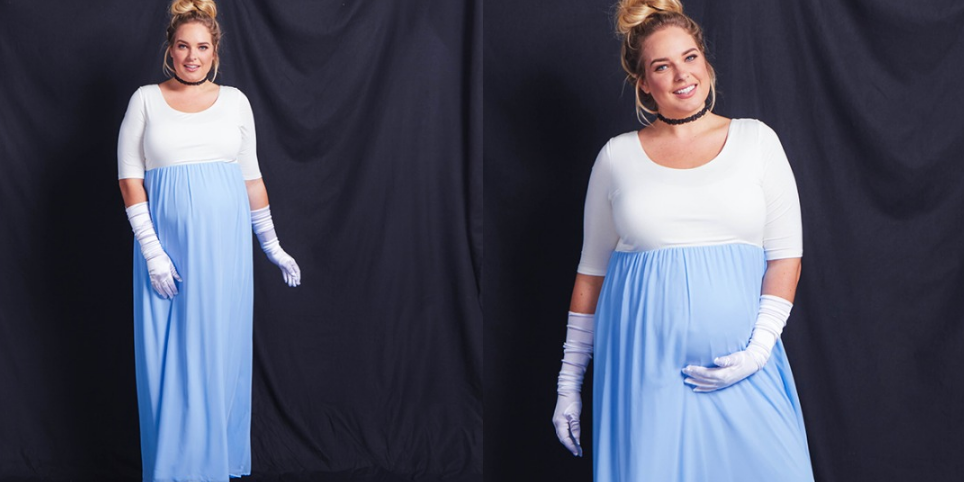 Bumperella:
There's a princess inside us all, bring your favorite Disney Princess to life with our Light Blue Chiffon Colorblock Maternity Dress. We've added an adorable Black Lace Crochet Choker and elbow length white gloves to recreate a magical look that won't disappear at the stroke of midnight!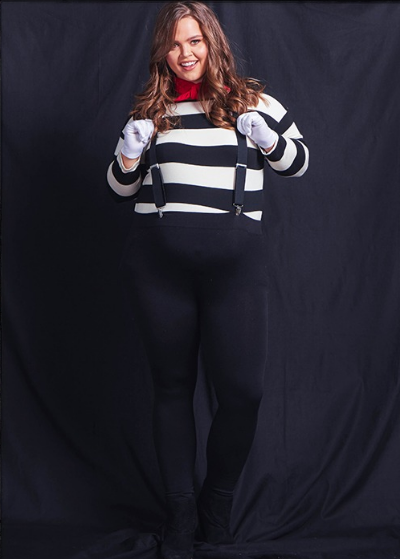 Talk To The Hands:
Give Halloween the silent treatment this year! With our Black Maternity Leggings and Black Stripe Tie Side Maternity Tunic, take a Parisian vacation for the night and have fun communicating with silly hand and face gestures! Other elements of the mime costume is easy: white paint, a red scarf, black beret and suspenders. Simple and done in seconds.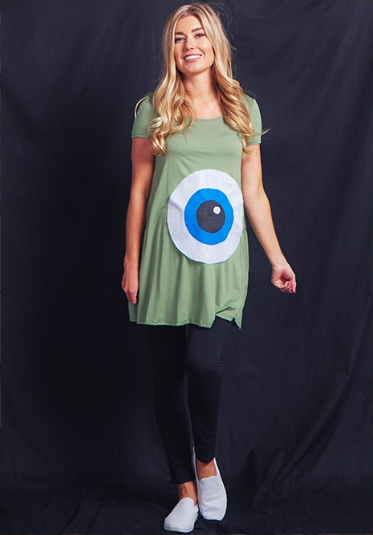 Mom-ster:
Nothing is scarier than a hungry mommy-to-be! Take it to the next level with this adorable DIY monster costume. We started with our Dusty Mint Short Sleeve Cutout Back Maternity Top and Black Maternity Leggings, took to the craft room to complete this look with an eye ball we placed over the bump! Time to have a roaring good time.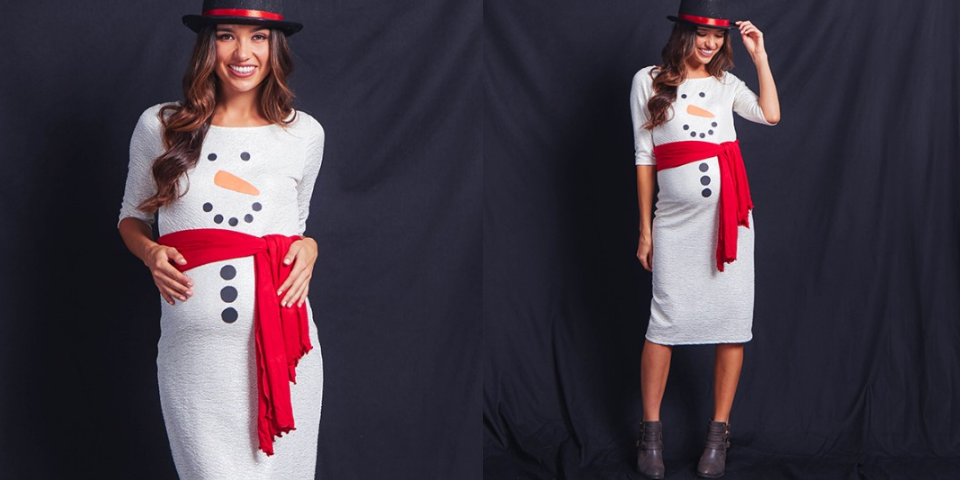 Snow"mom":
A new twist to everybody's favorite snowman, with our White Shimmer Fitted Maternity Dress, a red light weight scarf, Brown Faux Leather Textured Buckle Booties this is the perfect ensemble. Pull it all together with black construction paper for the eyes and coal, orange construction paper for the nose and a top hat for the final touch! You are sure to keep everyone in holly-jolly spirits whenever you're around!
Check out all of our Halloween costumes now at ShopPinkBlush.com! Wishing you a safe and spooky Holiday!