This is a red bump alert! But don't worry, we're just totally obsessed with this season's little red dress. Not only is it the perfect color for the holiday season, but it's also the perfect color to put your bump on display and get noticed for all the right reasons. The LRD is here to stay as a must try trend for any holiday occasion and we're sharing ways to pull off this red haute look for the mommy-to-be.
The Classic Red Draped Dress: The drape dress silhouette looks better than ever, plus it's perfect for transitioning from maternity to motherhood. This option is nursing-appropriate, while the cut provides a flattering fit for any trimester.
Dress: 1.Burgundy Draped 3/4 Sleeve Maternity Maxi Dress 2. Burgundy Draped Maternity/Nursing Maxi Dress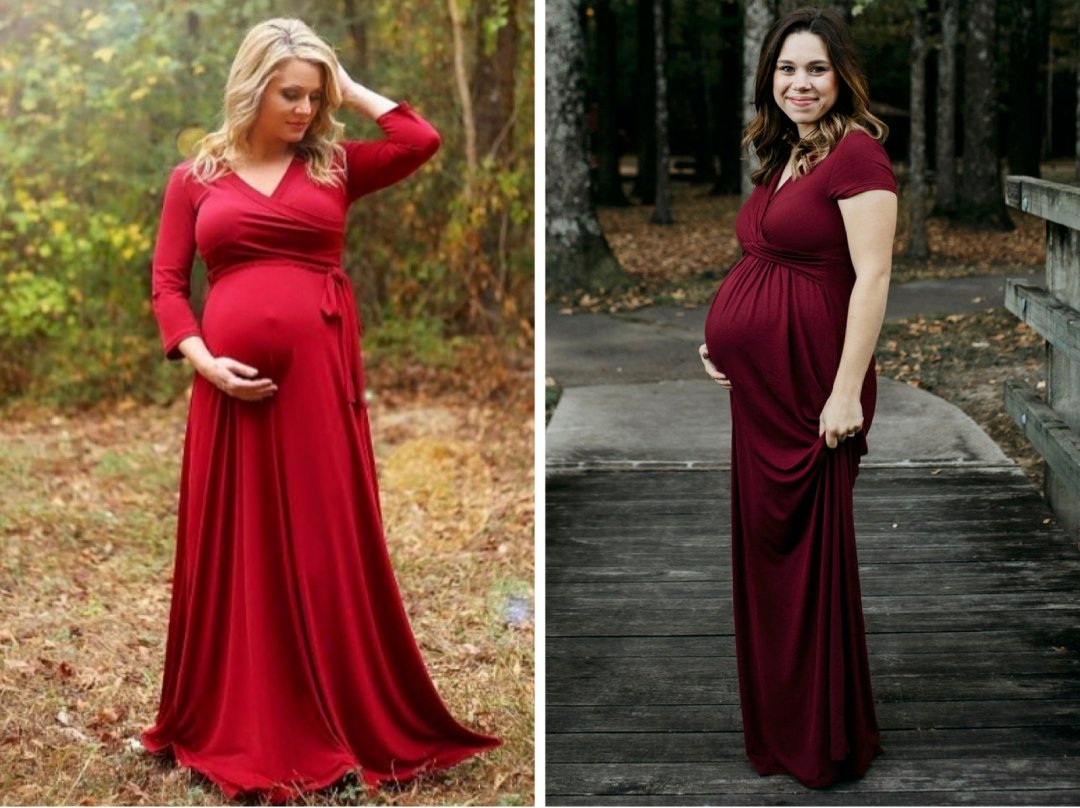 Photo Credit: 1. Ginger LaVoice Hillis @gingerhillis & Meagan Garrison @meg_byu841 2. Nicole Vinson Cole @nicolevcole & Katie Norrid @katienorrid
A Romantic Lace Silhouette: Can you say "date night"? Find yourself in the prettiest dress for any holiday occasion including a night out with your special someone. A lacy style is sure to grab his attention while making you feel Fa-La-La Fabulous!
Dress: 1. Burgundy Lace Maternity Dress 2. Burgundy Lace Bell Sleeve Maternity Dress/Tunic.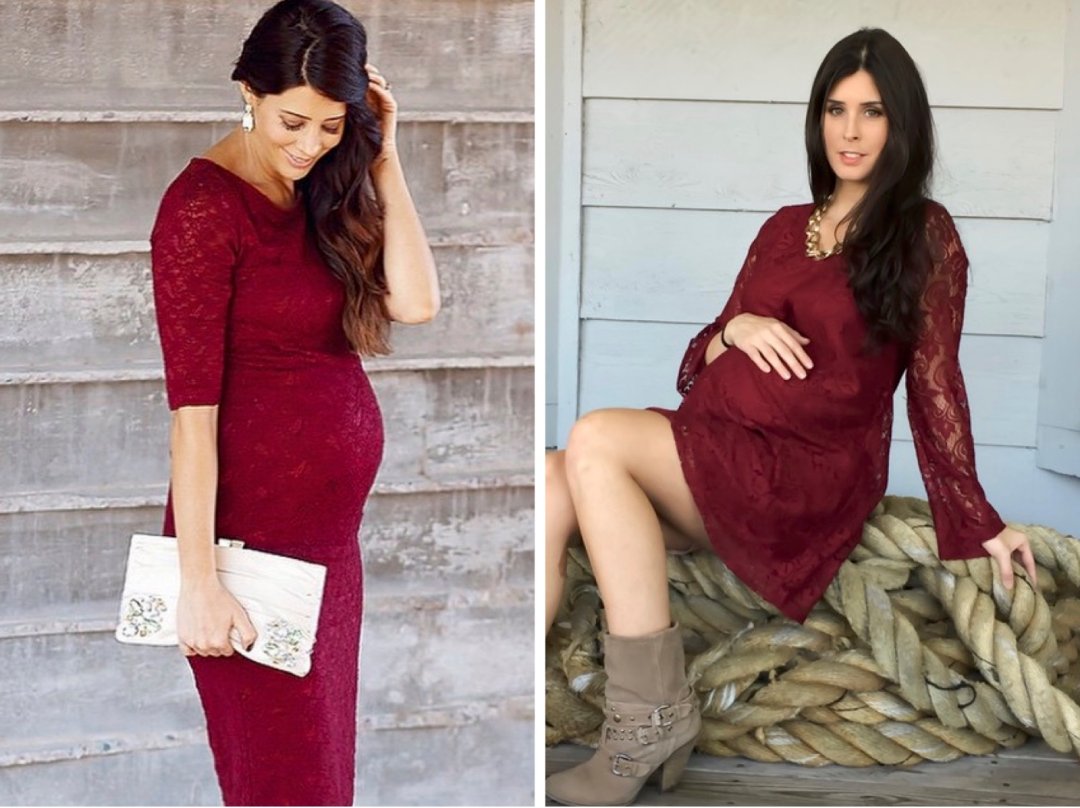 Photo Credit: 2. Jessica Boslet @0ceaminded
Your Statement Piece: Nothing takes your look up a notch like a touch of red. With embellished skirts that add a pop of red to your outfit or chic red pleats this color is sure to make one absolutely striking holiday look.
Dress: 1. Red Pleated Chiffon Lace Top Maternity Dress 2. Burgundy Tulle Mesh Gold Sparkle Underlay Midi Maternity Skirt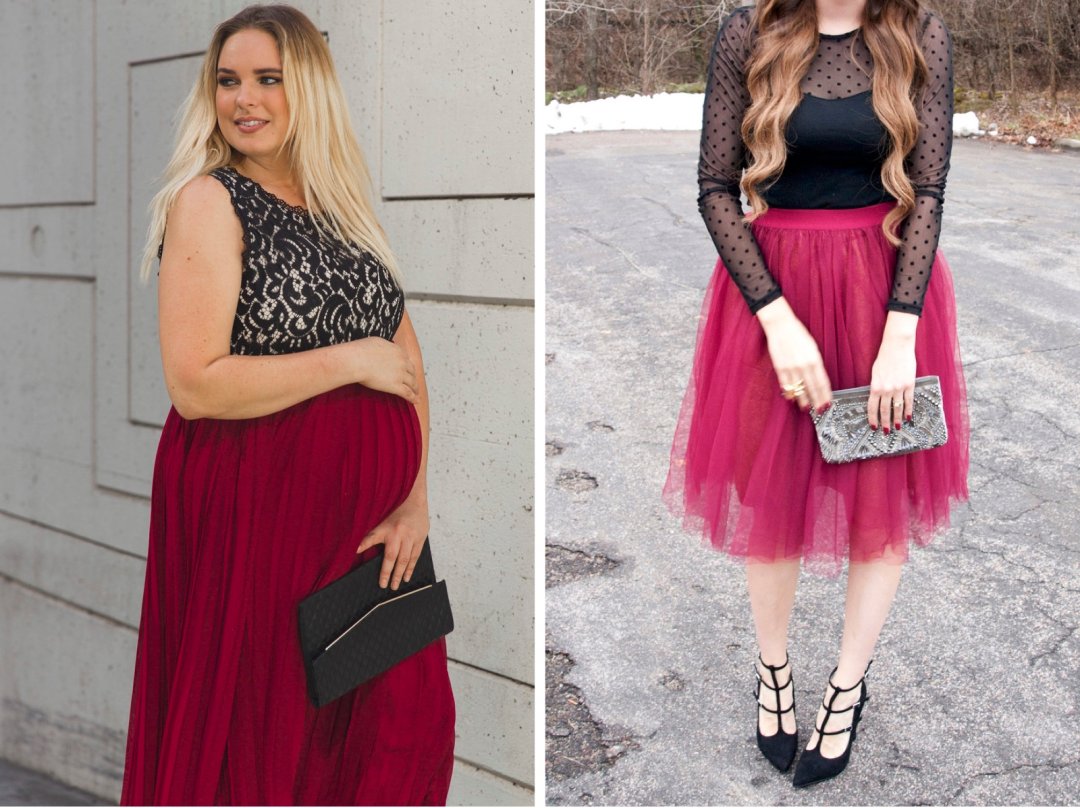 Photo Credit: 2. Kellie Witzke @the_classy_artist
Shop more red inspired maternity looks now at ShopPinkBlush.com!