Nothing fitting, but afraid to try maternity clothes? Looking to keep your style but be comfortable the next nine months? Or are you at the end of your pregnancy and hesitant to buy that dress you've been eyeing because you think you'll only wear it once? Insert PinkBlush now! When it comes to designing styles, transition is always at the top of our list! We make styling your bump easy with fashionable and on trend looks that you can also wear after baby too.
Look 1: Navy Plaid Lightweight Button Up Peplum Maternity Flannel
PC: Stephany @stephanykhayat from www.stephanyschoice.com
At 36 weeks, I find myself constantly debating over whether or not to buy that top or dress. But what always changes my mind is that these styles will easily transition into motherhood and will also work for nursing. So my friend the answer is yes, BUY IT!
With so many options it's no wonder PinkBlush has become a go-to for any expecting mother. It's affordable, on trend and reliable. When I say reliable it's because I can always count on the styles I purchase to make me feel beautiful, whether I am nine months pregnant or nursing my 2 month old baby. It's those times when you may not feel like yourself but having someone say "Where did you get that top? It's so cute!" can really make your day and let's face it mamas, it feels good!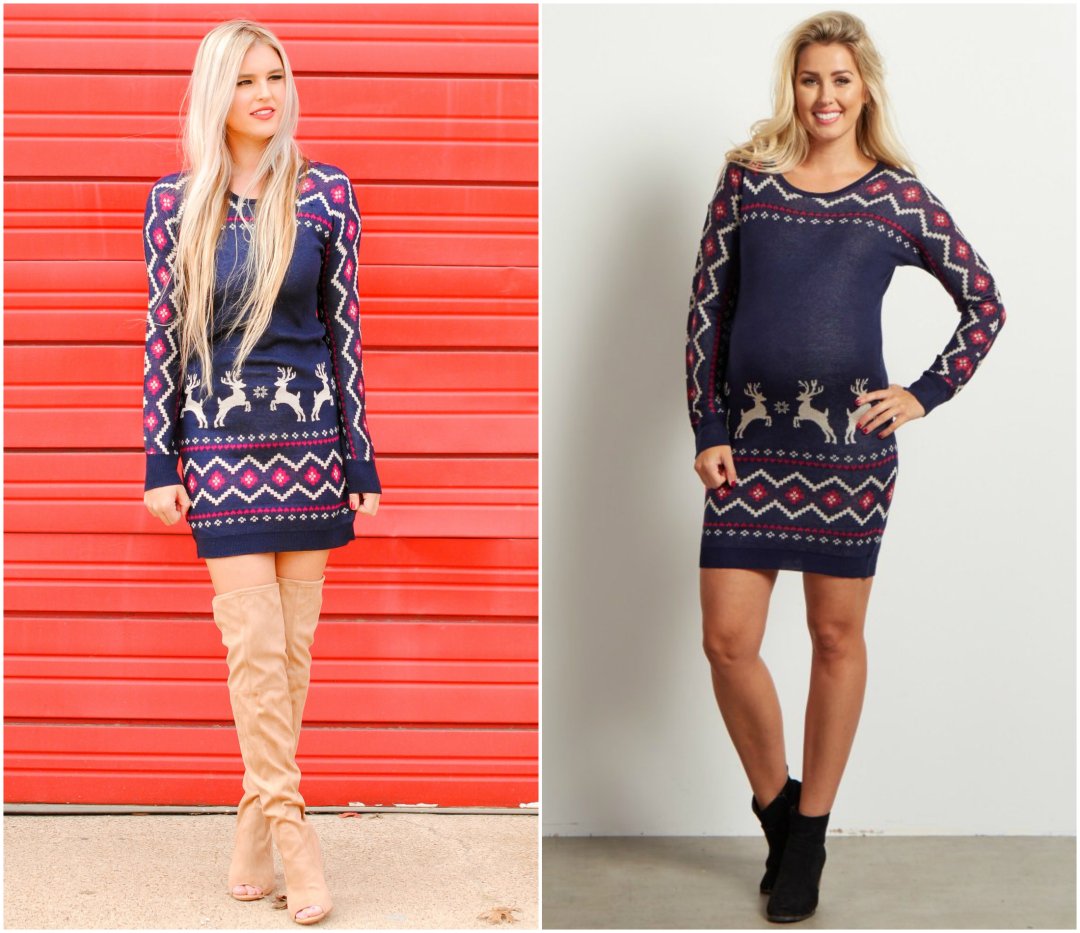 Look 2: Navy Reindeer Fitted Maternity Sweater Dress
PC: Stephany @stephanykhayat from www.stephanyschoice.com
When I say I have a PinkBlush addiction it's because literally 90% of my wardrobe is completely PinkBlush. My favorite part about my PinkBlush wardrobe is that I have styles that I wore throughout my first pregnancy then after and now during my second pregnancy. You would never think that after your pregnancy you'd still wear your stylish maternity clothes but you can and you will. Its quality and affordability that keeps our customers coming back pregnancy after pregnancy and in between.
Looking to be a big hit at your next mommy group? Dress to impress in PinkBlush and we promise you the compliments will keep on coming! Who doesn't love a good deal and your expecting and non-pregnant mommy friends will want to know exactly where you got your look! It's PinkBlush of course! So don't think twice, shop transitional styles for maternity and beyond now and never look back! We're your one stop shop for all things motherhood and you can find it all at ShopPinkBlush.com!